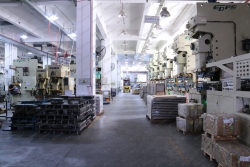 Xiamen HQ Mount Tech. Co., Ltd. Founded in May, 2015
R&D
Team members have five to eight years' experience in stress analysis and structure design optimization. Some of them have worked in famous international companies, i.e. ABB, Airbus.
Product
Different from homogeneity products in the market, HQ insist on innovation, had intellectual property for several products and applied for some design patents. Also HQ cooperated with several university and third party testing institution, i.e., SGS, BV.
Machining
To meet the requirement of esteemed customers, HQ have invested a lot of money in advanced manufacture facility as follows:
a) Chin Fong Machine, Automatic Punching Machine 25 ~110T, 12;
b) Japan AIDA, Automatic Punching Machine 110~300T, 13;
c) (Oil) Hydraulic Press Machine 100~600T, 2;
d) Extrusion Machine 1000T, 2.
HQ have well-developed workshops, including assembly workshop with 1000 square meter, can offer punching, extrusion & forging products and assembly service.
Quality Control
Quality is the cornerstone of enterprise survival and development. HQ set up quality inspection center lab, which is approved and certified by CNAS, and is equipped with advanced inspection devices, i.e., three-dimension measurement machine, universal microscope, projector, hardness tester, salt spray test machine, Digital height gage / caliper / micrometer. Our inspection capabilities include:
a) Inspection of metal physical properties;
b) Dimensional measurement;
c) Testing of metal environmental endurance and corrosion resistance;
d) Physical performance inspection & testing of paint coated metallic parts;
e) Mechanical performance test of metallic parts.
Corporate Values
● People Oriented
● Innovation
● High Efficiency
Corporate Vision
● Strive to be the best solar mounting solution provider
● Promote the development of clean energy
Corporate Mission
● Focus on customer's requirement
● Provide the competitive solar mounting solutions
● Sustained to create maximum value for customers