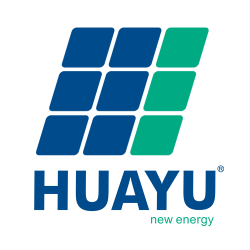 Huayu New Energy is a world leading solar inverter manufacturer which owns a dream of "Make our home energy self-sufficient" since the beginning of its founding.
Focusing on highly safe & efficient rooftop solar solutions, Huayu New Energy creates a one-stop shopping platform for global solar investors, distributors & installers with full range of Huayu microinverter (500-1600W), Huayu hybrid inverter (3-10kW) & Huayu string inverter (1-80kW).
-Huayu Microinverter (25-year Warranty)
Starting with professional MLPE(module level power electronics)solution, 100% of Huayu microinverter models are featured with module-level MPPT and module-level monitoring,
Meanwhile, integrated AC cable plus connectors make installation just by "Plug & Play".
In 2020, the new released Huayu "2 in 1" & "4 in 1" microinverters set the new record for solar industry again:
HY-1000-Plus (2 MPPT) - the best power density EVER for "2 in 1" microinverter.
HY-2000-Plus (4 MPPT) - the most powerful microinverter EVER in the world.
Furthermore, Huayu microinverter is also the world's first data logger built-in microinverter, less extra device not only saves its hardware cost & installation time, but also lowers its failure rate.
-Huayu Hybrid Inverter (10-year warranty)
Huayu hybrid inverter mainly designed for self-consumption use, covers a range of 3-10kW for single-inverter system and paralleling extension energy storage system. Smart paralleling algorithm enables multiple working modes for on-grid, off-grid or micro-grid application based on Huayu hybrid inverter and AC-coupled energy storage inverter.
-Huayu String Inverter (5/10-year Warranty)
Huayu string inverter may satisfy the common use of on-grid solar system, the range of 1-25kW Huayu string inverters is the best choice for home owners and small business owners; to lower the LCOE, 30-50kW & 60-80kW Huayu string inverters are especially designed for commercial applications and industrial applications. For all Huayu string inverter models, WiFi monitoring data loggers are integrated without any extra costs.