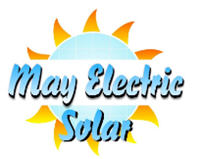 Enphase Energy, Inc. announced that May Electric Solar has once again chosen Enphase microinverters to provide solar electricity for its customers in Florida.
"Floridians face some of the wildest weather out there, and Enphase microinverters, batteries, and the Envoy energy management platform have allowed us to bring our customers the most reliable solar on the market," said William May, CEO of May Electric Solar. "Just like with having rapid shutdown long before it was legally mandated, Enphase is always ahead of the curve with new features and technology. This is certainly the case with the upcoming grid-independent technology from Enphase, which will allow homeowners to use solar energy even when grid power goes out."
"The solar systems installed by William and the team at May Electric Solar face some of the most challenging weather conditions for electronics, which is why Enphase microinverters are tested in conditions far worse than they would face in the real world," said Badri Kothandaraman, president and CEO of Enphase Energy. "We are pleased that a solar energy contractor with the reputation for and dedication to quality like May Electric Solar trusts Enphase products for their installations. Living up to the high standards set by our installation partners is what drives Enphase to innovate and continuously improve both quality and service."