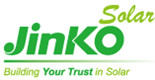 JinkoSolar Holding Co., Ltd. today announced that it supplied 132MW of PV modules to Swinerton Renewable Energy for the construction of the Techren Solar 1 Project in Boulder City, Nevada.
SRE is providing the engineering, procurement, and construction services to Clēnera, LLC, who selected over 350,000 of JinkoSolar's 1500-volt mono PERC modules to power Techren Solar 1. The project will provide power to the Nevada Power Corporation under a 25-year power purchase agreement. Techren Solar 1 is located in the Eldorado Valley Energy Zone, 25 miles southeast of Las Vegas.
"We are pleased to be working with both Swinerton and Clēnera on another sizeable project," said Nigel Cockroft, General Manager of JinkoSolar (U.S.) Inc. "It has always been our mission to be recognized as the most reliable module supplier in the US, and it is due to our commitment to delivering reliable products and exceptional customer service that industry leaders like Swinerton and Clēnera continue to be long-term partners."
"Reliability has always been a key factor when selecting EPC's and suppliers," said Michael Gallego, VP of Operations at Clēnera. "It is particularly important with larger projects like Techren 1 that we select partners who are dependable and consistent in their work; Swinerton and JinkoSolar encompass both of these traits."