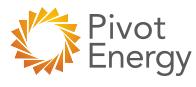 Pivot Energy announced today it has completed a 431 kilowatt (kW) solar carport installation for the Intermountain Rural Electric Association (IREA). The solar carport, located at IREA's headquarters in Sedalia, CO, combines beautiful aesthetics with functionality, utilizing high-efficiency solar panels and a sleek low-profile design. The solar carport is scheduled to begin producing clean energy in early May to help power IREA's headquarter building.
The annual amount of solar energy generated by the carport will avoid the greenhouse gas emissions equivalent to driving 100 vehicles for one year or the amount of CO2 emissions from consuming 53,000 gallons of gasoline. The structure is able to house 130 vehicles and includes electric vehicle charging stations for onsite charging.
"We are thrilled to be able to work with IREA to help provide them with clean energy for their onsite operations," said Tom Hunt, Chief Executive Officer of Pivot Energy. "From concept, to the design and build of the carport, this was a unique and exciting project for our team to complete. The carport is a great example of how solar can be installed in a creative way to maximize aesthetics and functionality."
"We sought a solution that provided covered parking, renewable energy and convenient electric vehicle charging stations," said Pat Mooney, Chief Executive Officer of IREA. "We appreciate Pivot Energy's effort on this project – especially their work to complete it after the outbreak of COVID-19."
Pivot Energy contracted with IREA for the design, procurement, and construction management services for the solar carport installation. This is the first solar project they have worked on together.