Sunways displayed three of their popular products at SNEC, which has already achieved high appreciation and recognition in Chinese market, including STS 5KTL single-phase solar inverter for residential, STT 20KTL three-phase inverter for residential and commercial rooftop, and STT 100KTL three-phase inverter for industrial and commercial solar PV plant.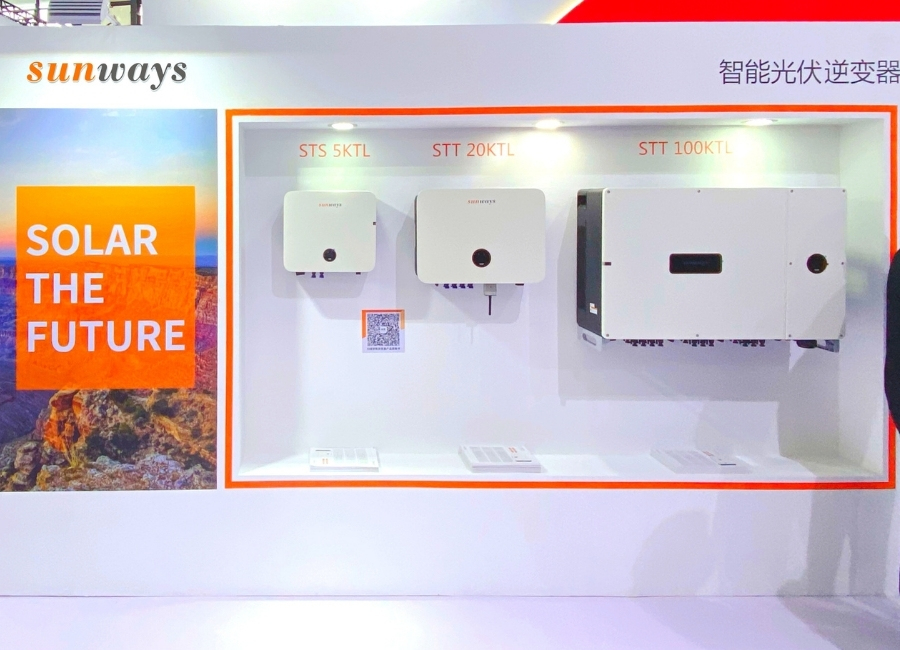 A whole series of products
Sunways STS 5KTL single-phase grid-tied inverter designed with a high-efficiency rate of 98.10% and high reliability and operational safety. The operation temperature is about 5 to 10 degrees Celsius less than the standard designs, an advantage which ensures longer service life and better reliability. With various built-in protection mechanisms - DC and AC surge, anti-island, short circuit, over-voltage, over-current, and over-temperature protection, as well as reverse polarity protection with ground fault and grid monitoring featuring further guarantee of stable performance and safe operation.
Sunways STT 20KTL has high power density, high integrated power generation efficiency of 98.6% and built-in advanced MPPT algorithm, which can effectively reduce the power loss caused by rapid weather change and shadow multi-peak. Two MPPT trackers essentially allow the inverter to treat the array as two separate systems, ensuring higher versatility, better efficiency and more effective space use. With excellent redundancy circuit design, it supports continuous 1.1 times overload output and high over-match ratio.
Sunways STT 100KTL is suitable for both industrial and commercial rooftop and solar plants, our DC string voltage delivers high energy density, lower installation costs, and less space needed. With 98.8% maximum efficiency, STT 100KTL helps maximize PV power plant yields in the new era of high-performance solar panels, while reducing plant LCOE. An integrated smart I/V curve scanning feature helps detect such string faults as panel mismatch and shading, ensuring maximum system performance while making O&M fast and easy.
Sunways obtained certificates from TÜV SÜD and DEKRA
During the SNEC 2021 PV exhibition, Sunways received the certificates of IEC 62109, grid-tied EN 50549, grid-tied VDE AR-N4105, grid-tied NRS 097-2-1 (South Africa) for three-phase inverter issued by TÜV SÜD and grid-tied TOR Erzeuger (Austria) by DEKRA.The authoritative certifications of TÜV SÜD and DEKRA make us more confident in providing customers with more efficient and reliable products, thereby further enhancing the competitiveness of our products in the market. These certifications fully confirm our innovation and strength, the comprehensive performance, quality and even the manufacturing process of the product fully meet the strict quality and safety requirements. Sunways always adhere to the "German Design & Performance" for the purpose of the products, the certifications of of TÜV SÜD and DEKRA will further ensure the quality of the product and also enables the user to use at ease.