Guangdong Powerway Renewable Energy Company provides mounting system and structure services for PV power plants in Japan. The company's services incorporate detailed consideration of the local geographical conditions. Powerway's standardized ground mounting systems adopt two module designs, designed to serve tilt angles of 20° and 30°. Its design formats are based on consideration of Japan's unique requirements.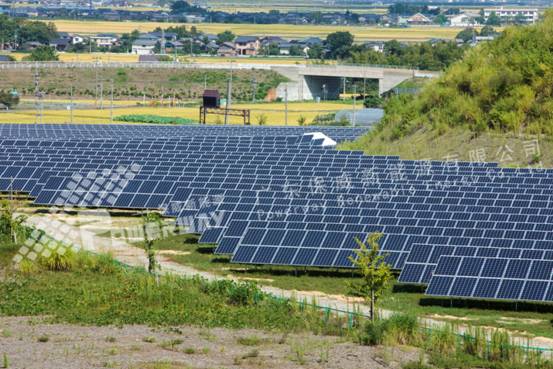 The first consideration is that Japan has a wide latitude range (25 degrees to 45 degrees), so a tilt angle of less than 30 degrees is the most common design in the country. Land is scarce in Japan, with the result that most PV plant designs strive to get maximum installed capacity to yield maximum energy output from the minimum area of land. In addition, in contrast with other countries, the horizontal irradiation in Japan is more diffuse. Therefore, even when building with a tilt angle less than the optimum angle, the loss of energy produced is insignificant. By finding the ideal balance between optimum land utilization and maximum energy output, most PV plants are able to build with a smaller module tilt angle. However, in northern Japanese regions such as Hokkaido, a tilt angle of more than 30 degrees may be used, to expedite the snow sliding off the solar modules.
The second consideration is that the construction design must take into account efficient module surface cleaning by the rain and sliding snow. For this, a design format of two modules in portrait mode is used. In this design, the highest point of the modules is not overly high; thus the crew is able to install the arrays and connect the cables on the ground, saving construction time.
Labor costs are very high in Japan, but Powerway's designs reduce labor costs for the whole project. In addition, designing modules in portrait mode results in twice the module glass surface and aluminum frame height-difference vs. slope-direction, compared to two modules in horizontal mode. This leads to a superior cleansing effect by rain and sliding snow. This design has significant advantages for projects near the Japanese coast.