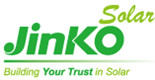 Sept. 10, 2013 - JinkoSolar today announced that it entered into agreements for the supply of photovoltaic modules in total amount of 274MWp with Acciona.
According to the agreements, JinkoSolar will supply Oakleaf Investment Holdings 86 (Proprietary) Limited ("Oakleaf"), a South African-based cooperation, with 94MWp solar modules starting from November 2013 through September 2014, for a solar farm located in Northern Cape Province, South Africa. JinkoSolar will also supply 24.07MWp solar modules starting from October 2013 through December 2013 for the Royalla PV Plant located in the ACT territory of Australia, which will be built by Acciona Energy Oceania. Besides, Jinko will supply Acciona with 156MWp photovoltaic modules, which is subject to further discussion and final definitive supply agreements between the parties from time to time in the future.
The solar farm in Northern Cape Province will use approximately 319,600 JinkoSolar PV modules and will produce approximately 206GWh per year, avoiding the emission of around 198,000 metric tons of CO2 in coal-fired power stations. The solar farm in ACT territory will use approximately 81,600 modules and will produce energy for 4,500 Canberra houses.
"We are happy to fix this big contract with Acciona, and it is an honor to work with Acciona on the milestone project in South Africa and Australia as a beginning, which will not only substantially diversify South Africa and Australia's clean energy mix, but will also set a good example of solar energy," said Mr. Xiande Li, Chairman of JinkoSolar. "We will work closely with Acciona, our reliable partner, to fulfil our shared commitment to delivering affordable solar electricity to the world."