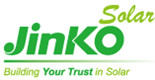 May 2, 2014 - JinkoSolar Holding today announced that it signed contracts to supply 100MW of PV modules for two PV projects in Chile.
Both projects are located in Chile's Atacama Desert region, which has one of the highest irradiation levels in the world. The Lalackama PV plant, the first of the two projects, will consist of 60MW and will include 197,000 JinkoSolar high-efficiency PV Solar modules. The project is expected to generate approximately 132 millions of kWh of electricity annually. The second of the two projects will consist of 40MW and is located in the Municipality of Diego De Almagro, the plant is expected to generate approximately 88 millions of kWh of electricity power annually.
"We are very proud to have further solidified our position as one of the largest PV module suppliers in Chile." said Mr. Alberto Cuter, JinkoSolar's Sales Director of Emerging Market. "The increase in demand for renewable energy has turned Chile into one of the principal solar markets, and by signing those contracts, we are continuing our strategy to diversify into emerging markets. We now have the largest market share in Chile, marking a new milestone for JinkoSolar. Our expanding presence in Chile's renewable energy market demonstrates our commitment to the development of clean energy in Latin American."