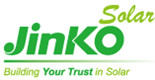 July 16, 2014 - JinkoSolar Holding Co., Ltd. today announced that it has entered into a five-year RMB 1 billion strategic financing agreement with China Minsheng Banking Corp., Ltd. ("CMBC").
According to the terms of the agreement, CMBC has agreed to provide financing support of an aggregate amount up to RMB 1 billion over a five-year period. Financial services will include but are not limited to merger and acquisition finance, supply chain finance, bridge loans, letters of guarantee, trade finance, and project finance especially for distributed PV projects.
As a first step in the relationship, CMBC has agreed to provide an RMB 88.8 million project loan for a 20MW distributed solar PV project in Haining Hi-tech Park, Zhejiang Province. The project has already been submitted and approved by the National Development and Reform Commission. Constructed on the roof-tops of adjacent offices and production facilities, the project will cover an area of 234,000 square meters. The power generated will be used by the surrounding businesses with residual power fed back into the grid. Building upon this agreement, the Company plans to replicate this financing model with three separate 20MW distributed PV projects, totaling 60MW, located in Jiaxing City, Zhejiang Province.
"As a global leader in the solar PV industry, we are extremely excited to have the opportunity to build a new strategic partnership with China Minsheng Bank," commented Mr. Xiande Li, Chairman of JinkoSolar. "Distributed PV generation systems represent the future for the Chinese market, but its development over the past few years has been hampered by financing difficulties. We believe that this agreement represents a new era in the financing of distributed generation projects for JinkoSolar. Building upon the reputation JinkoSolar carries following the cooperation with national policy bank, this agreement also demonstrates the confidence that one of China's premier commercial banks has in our project development capabilities and overall strength. We look forward to deepening our relationship with CMBC which we believe will serve as an example for future DG project financing agreements in China and are eager to begin working together on our strong pipeline of projects."