August 19, 2014 - RGS Energy reported today results for the second quarter ended June 30, 2014. The Company also filed today its Quarterly Report on Form 10-Q for the quarter ended June 30, 2014.
David Belluck, RGS Energy's Chairman of the Board, stated: "After completing a comprehensive review of each of our businesses, the Board of Directors has determined that the best opportunity lies with our new Residential and Sunetric segments for maximizing future shareholder value. Dennis Lacey is uniquely qualified for the CEO role. He has not only served effectively as our President of Residential since April 2014, but also has a successful track record in turnaround situations of public companies. Our current circumstances require that we focus our business activities on residential solar, which is still in its early stages as an industry, and around a leader with the necessary background and skill set to return our business to profitability."
Dennis Lacey, the newly appointed CEO, stated: "Since being appointed President of our Mainland Residential segment in April, we have made progress within the Residential segment; for instance, comparing the 1st quarter to the 2nd quarter, the close rate by our sales force has doubled, the average sales price increased 7.8%, our cost per acquisition decreased by 7.5%, our backlog increased 28.9%, and to address capacity and efficiency, through the end of July, the headcount has been reduced 19% from April. In addition, our Esales team averaged approximately $1 million in sales per month for the quarter and our East Coast residential sales team sold $15 million for the quarter. This strong performance by our East Coast team is 175% higher than they achieved in the first quarter presenting our operations team with the enviable challenge of keeping up with sales."
Summary Results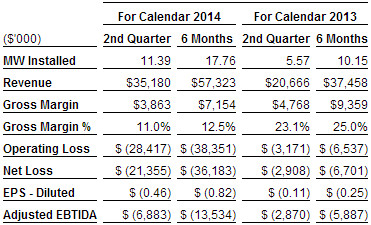 CEO Commentary
Dennis Lacey stated: "The current quarter's results reflect that there are now three primary reportable segments within our Company: Residential, Commercial, and Sunetric, with significantly different economics. Our Residential segment grew revenue and gross margin dollars over the prior year quarter. Furthermore, we intend to devote significant internal resources to growing our Residential segment by increasing the size of our sales force, building out our installation capabilities, and launching our leasing platform. On the other hand, the results of our Commercial segment were adversely impacted by increased pricing pressures and longer cycle times for commercial projects. As a result, we plan to reduce our focus on the commercial solar market in the future."
Dennis Lacey went on to add: "We have already taken actions to further improve our performance in the Residential segment, such as closing unprofitable offices, investing in improved sales training for our employees, test launching our leasing program in one market, and delivering better customer service. We had very strong performance this quarter from our East Coast sales team, which sold $15 million worth of installation jobs, much of which is in our current backlog."
Reportable Segments
During the three months ended June 30, 2014, the Company's management structure and divisional economic characteristics changed, resulting in the creation of four reportable segments: (1) Residential – the installation of solar systems for homeowners, including lease financing thereof; (2) Commercial – the installation of solar systems for business owners; (3) Sunetric – the installation of solar systems for both homeowners and business owners in Hawaii; and (4) Other – retail store and corporate operations. We believe this new structure will enable us to more effectively manage our operations.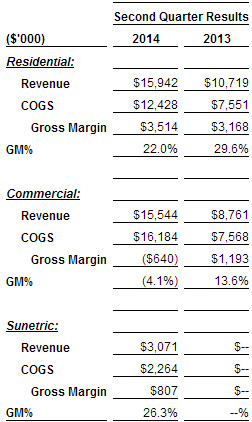 Residential: The decline in GM% for Residential reflects pricing decisions in earlier periods for which the Company has since enforced stronger pricing discipline to achieve higher average sales prices on new business. Additionally, the Company maintained excess construction capacity for a period of time, but has since been better aligned with sales.
Commercial: The decline in GM% for Commercial reflects the changed market conditions arising from pricing pressures from developers and financiers of commercial projects entering the commercial solar EPC market.
During the quarter, a noncash charge of $18.8 million was recorded to reflect the impairment of goodwill and other assets related to the Commercial segment.
Sunetric: During the quarter, the Company acquired Sunetric, a Hawaii-based commercial and residential installer, for a total purchase price of $11.6 million, consisting of approximately 4.0 million shares of RGS Class A common stock and $0.5 million of estimated contingent consideration. The Company made this acquisition due to the desirable economics for solar in Hawaii, as well as the opportunity to acquire one of the highest accredited solar enterprises in Hawaii, and an outstanding leadership team with strong local knowledge.
Dennis Lacey commented: "We are delighted with the leadership team at Sunetric and encouraged by the potential for high gross margins in Hawaii. Our intention is to devote more resources toward growing this business segment in the future."
Balance Sheet Items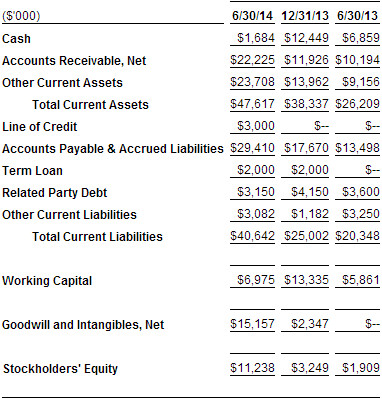 On July 9, 2014, the Company received proceeds from a private placement of securities $6.4 million, net of offering costs.
Tony Dipaolo, RGS Energy's Chief Financial Officer, stated: "We have maintained our working capital over the past year, while incurring the costs of integrating three acquisitions. Our plan is to further streamline operations and complete the integration of these companies. Our stockholders' equity and goodwill have also grown since the end of 2013, reflecting the shares issued in connection with these acquisitions."
About Presentation of Adjusted EBITDA
Adjusted EBITDA is not a financial measure calculated and presented in accordance with GAAP and should not be considered as an alternative to net income or any other financial measures so calculated and presented, nor as an alternative to cash flow from operating activities as a measure of liquidity. The Company defines Adjusted EBITDA as net income or loss before income taxes, change in valuation of warrants, interest and other expenses, goodwill and other asset impairments, acquisition-related and other expense (including integration costs), share-based compensation, and depreciation and amortization. Other companies (including competitors) may define Adjusted EBITDA differently. The Company presented Adjusted EBITDA because it believes it is an important supplemental measure of performance that is commonly used by securities analysts, investors, and other interested parties in the evaluation of companies in our industry. The Company also uses this information internally for forecasting and budgeting. It may not be indicative of the Company's historical results nor is it intended to be predictive of potential future results. Investors should not consider Adjusted EBITDA in isolation or as a substitute for analysis of the Company's results as reported under GAAP. The table below reconciles the Company's Net Loss to Adjusted EBITDA for each indicated period.
We also encourage all investors to read RGS Energy's most recent Annual Report on Form 10-K and Quarterly Report on Form 10-Q.
Reconciliation of Net Loss to Adjusted EBITDA