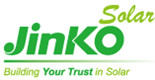 August 20, 2014 - JinkoSolar Holding Co., Ltd. today announced that it will supply 40MW of solar PV modules to 8i S.A. for a solar power project in Chile. 8i will be the owner, project developer and EPC for this project.
According to the terms of the agreement, delivery of the solar PV modules will begin in the fourth quarter of 2014. The 40MW project will be located in the Valparaiso region of Puchuncavi, an industry zone of Chile. Upon completion in July 2015, the project will act as an ecological example to the region by reducing emissions by around 37,700 Tons of CO₂ annually. The solar power plant will utilize approximately 131,150 JinkoSolar's 305 Poly 72 high-efficiency PV Solar modules.
"We are solidifying our position as the market leader in Chile with the signing of this 40MW contract and further diversifying our geographic presence," commented Mr. Xiande Li, Chairman of JinkoSolar. "We have been very careful in selecting our business partners for big contracts such as this one. 8i is an ideal one with its strong financial capabilities, ample local resources, leading technology and solid execution track record. While there is no feed-in-tariff policy or government incentive system for utility-scale solar project in Chile, the country is experiencing a strong increase in solar energy demand. We are very confident that we will be able to maintain our market leading position in Chile as we work to expand further into Latin America."