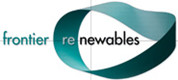 September 8, 2014 - Frontier Renewables LLC announced today the signing of two 25-year power purchase agreements ("PPAs") with the University of California to provide its campuses and medical centers with a total of 80MW of clean, renewable solar photovoltaic energy. The projects are 60MW and 20MW in size and are both located in Fresno County, California.
"Frontier Renewables is proud to partner with the University of California and provide clean renewable energy to its campuses and medical centers," said Balduin Hesse, chief executive officer of Frontier Renewables. "We commend the university on this historic procurement of renewable power and hope other universities around the country will be inspired to move towards carbon neutrality. These projects will also help further California's statewide clean energy goals."
Construction for the Five Points and Giffen projects is expected to begin in late 2015 and early 2016, respectively, and the plants will begin generating clean power by the end of 2016. The two projects combined will produce approximately 206,000MWh per year, enough to power the equivalent of 30,000 homes and avoid more than 88,000 metric tons of CO2 per year. The projects are projected to create 237 jobs during their construction and operational phases.
The two agreements are major components of the University of California's sustainability initiative. Announced by UC President Janet Napolitano in November 2013, the initiative's goal is to make UC the first research university to achieve carbon neutrality by 2025, in part by re-examining the energy sources powering UC's 10 campuses and five medical centers.
"As a national leader in sustainability, the University of California is taking on bold, new goals and transforming our approach to procuring and using energy in more sustainable ways," said UC President Janet Napolitano. "Our partnership with Frontier Renewables will help us lower the demand on California's energy grid, and ensure that UC has a steady supply of cost-effective, climate-neutral electricity. By investing in the development of renewable energy sources like these, UC is doing its part to increase the supply of green energy available for use across California."
The two PPAs were approved by the university's wholesale governing board. This solar supply will allow the university's campuses served by the Wholesale Power Program to receive energy that is 60 percent sourced from renewable supply.