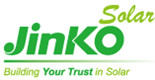 JinkoSolar Holding Co., Ltd. today announced that it has supplied 5MW of highly efficient, salt and mist resistant solar modules to DMM for a ground mounted solar PV project in Mie Prefecture, Japan. The project has been connected to the grid and is operating.
The project is located approximately 100m from the coastline in Meiwa, Mie Prefecture. Given its location along the coast in central Japan, solar modules used in the project had to be resistant to salt and mist. JinkoSolar's salt and mist resistant modules can be installed in any coastal region and run without interference over a long period of time. The project is expected to generate approximately 5.55 million kWh of electricity annually for 2,500 local households.
"We are excited to be working with DMM to promote the local renewable energy market in Japan," commented Mr. Xiande Li, Chairman of JinkoSolar. "Located along the coast of Mie Prefecture in central Japan, the project required high quality modules that were salt and mist resistance. By selecting JinkoSolar as the module supplier for this project, DMM is demonstrating its confidence in the quality and performance of our modules under harsh environmental conditions."
"We are honored to work with JinkoSolar on this project," said Mr. Zhao Guo Sun, Manager of DMM's Energy Division. "We shared a common goal of creating greener environment with renewable energy. We are looking forward to cooperating on other projects in the future."