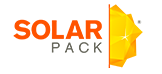 July 30, 2013 - Solarpack has signed contracts to finance its Pozo Almonte and Calama Solar 3 projects in Chile with the Inter-American Development Bank, directly and through the Canadian Climate Fund for the Private Sector in the Americas, and the French financial institution dedicated to private sector PROPARCO. The total amount of financing for the operation exceeds $65million.

The Pozo Almonte and Calama Solar 3 solar plants, owned by Solarpackand developed by this company, have a total capacity of 26.5MWp.

The Calama Solar 3 plant has a capacity of 1.1MWp and has been operational since April 2012. The Pozo Almonte plant, with a capacity of 25.4MWp, is currently under construction and will be operational in October 2013. The electricity produced by these two plants will be sold to the mining companies Codelco and Collahuasi.

Pablo Burgos, CEO of Solarpack, said: "This operation is of great importance in consolidating our leading position in the Chilean market, and by extension across South America. The recognition for our company in having the support of two such prestigious organisations further strengthens our commitment to stay in this part of ​​the world. We firmly believe that we can grow here and use our expertise to develop the solar energy sector."