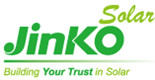 JinkoSolar Holding Co., Ltd. today announced that it has signed a strategy cooperation agreement for the supply of 1GW of solar PV modules with China Minsheng New Energy ("CMNE").
According to the terms of the agreement, CMNE will purchase a minimum of 1GW of solar PV modules with priority given to JinkoSolar in case of same terms and conditions over the two years spanning 2015 and 2016 with the minimum amount allocated for 2015 being no less than 600MW. The specific terms of the agreement will be subject to the formal purchase contract signed by both parties.
"As an investment company approved by China's State Council, CMIC has the advantage of analyzing government policy and deploying capital efficiently," commented Mr. Xiande Li, Chairman of JInkoSolar. "As a global leader in the PV industry, we believe this strategy cooperation agreement marks the beginning of a long-term partnership between two leaders in their respective industries. CMIC has targeted and deployed its capital in key industries that are in line with China's national strategy since its establishment and one of their focus points of investment is the solar industry. We look forward to developing a long-term relationship with CMIC as we jointly committed to promote the development of the solar industry in China."